The Solitary Angler Fishing Forecast & Newsletter
Another Good Winter and Great Spring Fishing!
If there's anything that gets me excited it's a good snow pack bringing the promise of extended stream flows well into summer. We're on a good storm track for the foreseeable future so we should be in good shape. Yet, with the warmer days we've had lately, we're experiencing some great fishing on Culebra Creek, Red River, Rio Grande and the Rio Chama.
We take a lot of people fishing in the winter that are here to ski or are with skiers. Give us a call if you're planning on coming here to ski and let us take you fishing while you're here! The spring fishing on Culebra Creek will be good with baetis hatches daily through April and the Rio Grande and its tributaries, including the Conejos will be good until the high run-off starts, usually around mid-to-late April.
Spring Fishing as Good as it Gets!
If You Haven't Fished the Green River with Us
This is What You've Been Missing!!!
Green River, Wyoming
It may be winter still but it's not too early to start planning for your spring fishing on the Green River below Fontenelle Dam in southwest Wyoming. Every spring on the Green River we catch great numbers of big bows, cuts and browns! While our summer and fall fishing is fantastic, I think the spring fishing can be even better. We're already off to a fantastic start to another great year on the Green River so contact us today to get on the schedule while we still have some openings.
Don't wait any longer! With only 2 guides a day allowed on the Refuge we are filling up fast!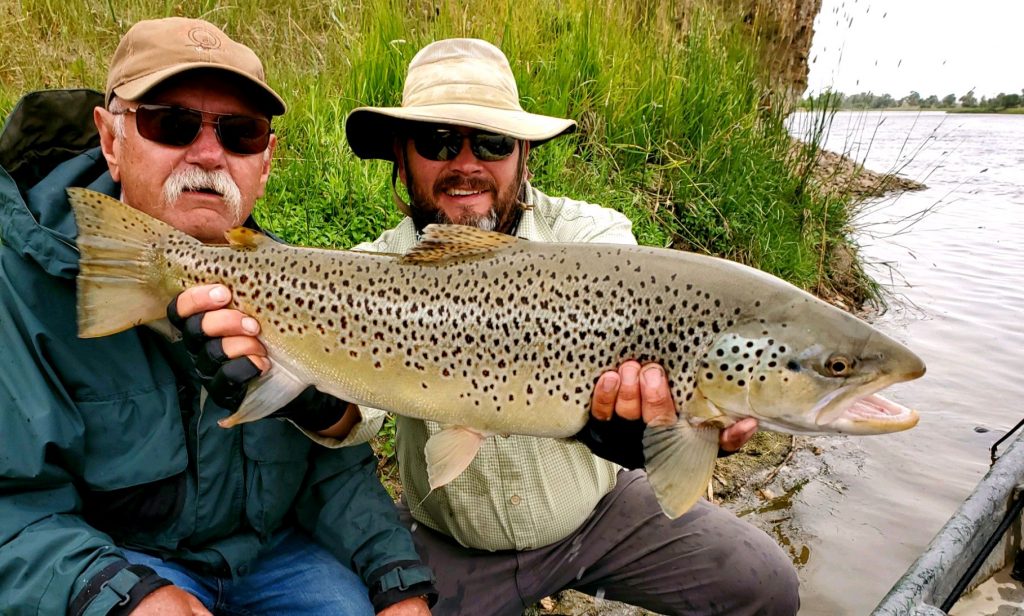 April, May and June provide anglers the opportunity to catch "huge" bows, cutthroats and browns and sometimes there's superb dry fly fishing as well. Baetis hatch daily in April through May and PMD's and bigger bugs can work well from mid-May through June even if the water levels go up. That's right! The last few years we've had some of our best fishing during high (but clear) flows in late May and June but you have to really know the river well. That's where we come in; we know the river better than anyone, period!
This year take my advice and book your trip for the Green River and Ham's Fk. in April, May or June, you won't regret it!!
Call me personally today and I'll set you up on an amazing spring fly fishing trip.
Tight lines,

575-776-5585