Join Our Fly Fishing Club Today and Start Enjoying

"Superior Flyfishing Without the Crowds"
Because the SAC fly fishing club wants to keep pressure to a minimum, we have strict limits on the number of Memberships available. If you'd like to become a Member of the Solitary Angling Club please don't hesitate to contact me personally for an application and to answer any questions you may have.
Basically, SAC Members and their guests get to fish all the fisheries I lease on a reservation basis without a guide (a couple of exceptions). When you reserve a section, your party is the only one there. We require a minimum of two days rest per section per week. Most sections receive a lot more than that. The result is an abundance of clean, strong, unspooked trout waiting for you to test your skills on!
I can also refer you to current Members of the fly fishing Club for first-hand testimonials on our fishing.
Contact me for complete details.
Sincerely,



Van Beacham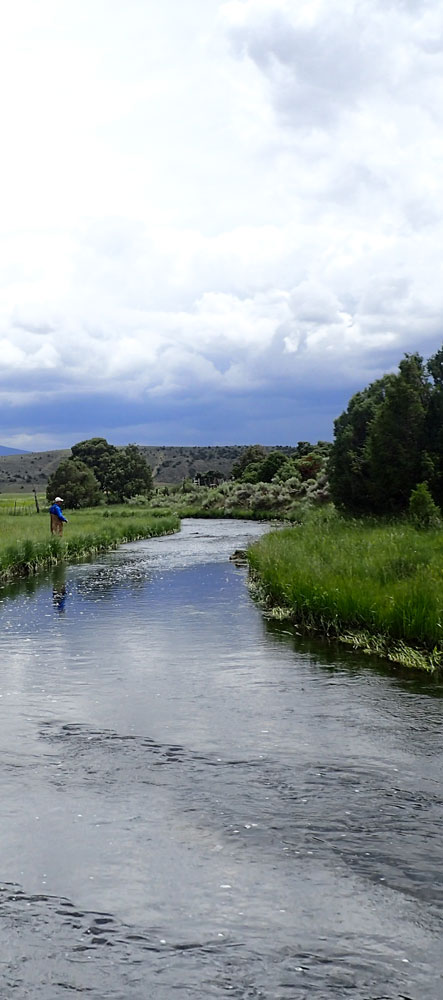 Why Join?
Variety – From the cold freestone Smith's Fork to the flats, undercut banks and deep holes on Culebra Creek, the SAC fly fishing club has a variety of waters to suit any angler's skills.
Awesome Beauty – The SAC waters are all located in some of the most beautiful and pristine settings in the Rockies.
Family Legacy – Members can find a connection with their kids when they fish with them and pass on a great legacy of man's connection with nature. Legacy Memberships can be passed on to your heirs.
Service Oriented – The SAC is a full service organization offering guide service and a fly shop and gallery located in beautiful downtown Taos, NM.
Rested Waters – SAC waters receive minimal angling pressure so that the fish are clean, wild and un-wary, resulting in better fishing.
Year-Round Fly Fishing – Culebra Creek, located one hour north of Taos, NM is undoubtedly the best small stream in the region, providing the opportunity to catch large rainbows, cutbows, brookies, browns and soon, cutthroats on a fly.
Big Fish – SAC Members consistently catch more fish and bigger fish than they do on nearby public waters. The club waters on Culebra Creek produce more large trout than any stream within a 2-hour radius of Taos, New Mexico.
Solitude – It's what quality fly fishing is all about. And it's what we're all about. Just you, the water, the flies, the pristine environment and of course, the fish. When you are a Member of the Solitary Angling Club you will always experience "quality fly fishing without the crowds."
The Solitary Angling Club offers three types of Memberships:
Gold Memberships – An annual fee allows the Member and up to 2 guests to fish all the waters leased or owned by the Solitary Angler, Inc. on a reservation basis. They are non-transferable and they are only good for the year purchased. The season runs from April 1st thru March 31st, annually. They're the most popular type of Membership and there are only a few available each year. The year runs from April 1st through March 31st, annually and new memberships are added only when new waters are picked up or when someone drops out.
Silver Memberships – Same as the Gold Membership except the Member and guests can only fish weekdays and non-holidays. They cannot fish on weekends or holidays.
Bronze Memberships – An annual fee allows the member and up to 2 guests to fish all our waters on a reservation basis up to 6 days per year. After that, they pay the daily rod fee, currently $100 per person per day.
Membership is good for only the year purchased; there is no carry over to next year for days not fished in the year purchased.