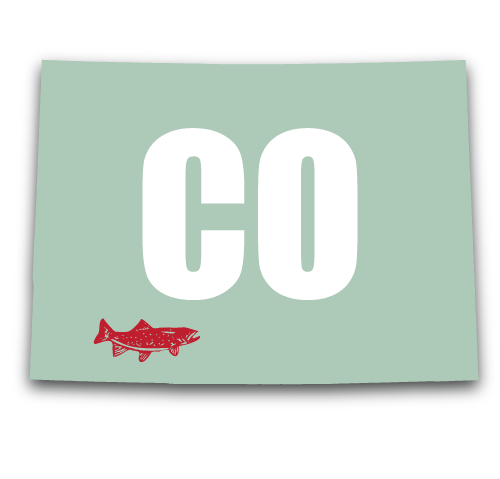 Flies: Baetis, Tricos, Hoppers, Small Golden Stones, Caddis, Midges, Craneflies, Snails, Scuds
Type: Beautiful tailwater, deep undercut banks, long riffles
Current River Flow Rate: Downstream Sections
Current River Flow Rate: Below Dam
The Culebra springs out of the bottom of Sanchez Reservoir, located in San Luis CO, about an hour's drive north from Taos. Situated at the base of the 14,000 plus foot Culebra Peak, the creek offers both fantastic scenery and splendid fly fishing on a year-round basis. The river runs through lovely wide-open pastures and meadows. The fish, on average, are the largest in the Taos area, with fish 18″ and up not uncommon.
Culebra Creek Fly Fishing Guides
Van Beacham has an exclusive lease on about eight miles of the stream, and owns two more. Van only allows anglers to fish the stream with one of our qualified Culebra Creek Fly fishing guides (unless you are one of the few privileged members of his Solitary Angling Club) which keeps pressure down. There are six sections and only one party per day is allowed on each. Every section receives at least two days rest each week.
Hatches occur all year long (see hatch chart) with prolific spring and fall baetis hatches. Stoneflies, caddis, crane flies, PMDs and tricos hatch all summer and midges hatch all winter.
By far, our clients' favorite place to fish, Culebra Creek in Southern Colorado is our crown jewel and perhaps the finest small stream in the southwest, boasting a robust population of wild browns and cutbows that average 16 to 20 inches with several larger fish up to, believe it or not, 30 inches!
The number of big fish varies from year to year but the Culebra grows fish rapidly so there are always big fish. There are multiple reasons for the Culebra's ability to grow big fish. First, it's a tail-water below Sanchez Reservoir, which provides nutrient-rich, clean water with less fluctuation of water temperatures, resulting in good year-round feeding opportunities.
Secondly, the Culebra has numerous bends with deep undercut banks where big fish can hide when endangered or threatened and very few places for small fish to survive the onslaught from cold winter temperatures, fast currents and predation, thus more big fish. Other factors include management tools such as SAC stream and habitat improvements, catch-and-release flyfishing only, prescription stocking of fish, reduction of poaching through patrolling and limited angling pressure through careful scheduling. (See the SAC brochure for more details.)
Season: Year-Round Fishing! (Private Water)
The secret to successful angling on the Culebra is learning which sections fish best at certain water levels and times of the year and the different techniques to use during those conditions. Needless to say our Culebra Creek Fly fishing guides know the Culebra intimately and can help insure your next fishing trip is a success.
We have over 10 miles of the Culebra divided into 10 sections (beats) so there is plenty of room to spread out and once you book a section with your guide, you're the only one there and chances are that there wasn't any one there yesterday nor will be tomorrow. The secret to our quality fisheries is that we "rest the water."
Come fish the Culebra with one of our guides and find out why it is by far our most popular destination that anglers keep returning to year after year.
For details on techniques, seasons, hatches and access to the Culebra Creek refer to my book, The Flyfisher's Guide to New Mexico.
*The entire Culebra Creek is also available to members of the SAC.