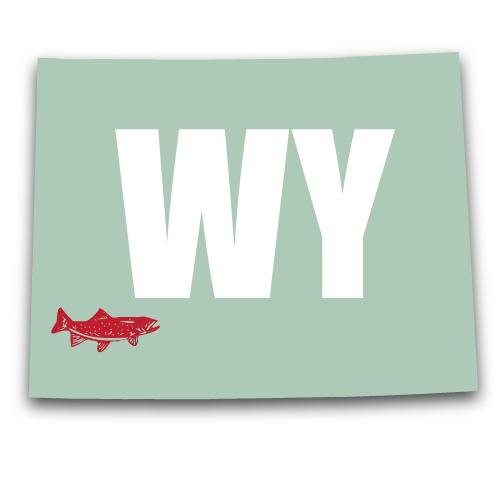 Flies: Huge Hoppers!!!
Type: Willowed banks, riffles and pools
Season: July – September (Private Water)
Available to S.A.C. members without a guide!
Smiths Fork Fly Fishing Guide Service
The Smith's Fork is located about one hour northwest of our base town of Kemmerer. It's a medium-sized freestone stream draining out of the southern end of the Wyoming Range. It's a major tributary of the Bear River and is the last stronghold for the rare native Bonneville Cutthroat Trout.
Van Beacham has access to over 5 miles of this jewel. Remote, beautiful, accessible and splendid dry fly fishing for plump browns and cutthroats 12 to 18 inches, some larger, all to yourself.
Smith's Fork Paradise
There are about five miles of private water covering three sections at two locations. The long foam lines hold numerous trout willing to take large dry flies. The river winds like a snake through willow thickets, grass and some cottonwood trees, and the terrestrials are always falling in the water, especially if there's a breeze.
Large parachute hoppers, ants, stimulators and humpies are the ticket here for the eager cuts that readily come to the surface even when there's nothing hatching. Let our Smiths Fork fly fishing guide service take you out for a day and you'll see how fun it is to fish with large dry flies! Combine with fishing the Fontenelle Creek, Ham's Fork and Green River below Fontenelle Dam.
*The Smith's Fork is also available to members of the SAC.
The river winds through a beautiful valley on working ranches. The Smith's Fork has numerous long deep pools with serious undercut banks and endless foam lines to drift huge stone flies, stimulators, hoppers and other attractors over. The fish are very willing to hit the large dries, usually starting in July and lasting into mid September. Nearby headwaters and Lake Alice also provide ample opportunities to catch the rare Bonneville Cutthroats. While fishing the Smith's Fork stay at the Clark County B&B located right on the bank!