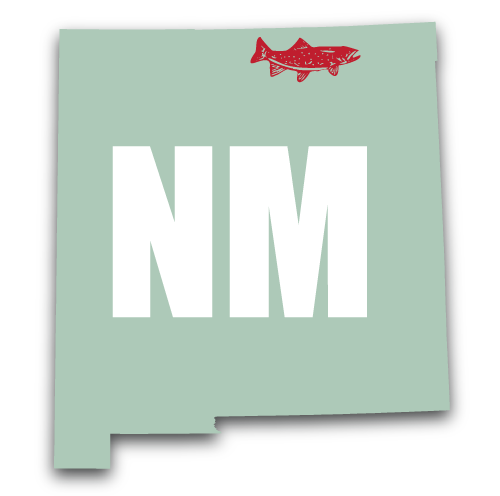 Flies: Baetis, PMDs, Midges, Hoppers, Caddis, Stoneflies, Salmonflies, Scuds
Type: Brushy stream with riffles, pockets, pools, and beaver ponds.
Cimarron Fly Fishing Guide Service
The Cimarron Creek is a small tailwater located one hour east of Taos. Eagle Nest Lake, a large reservoir situated in the beautiful Moreno Valley, feeds this beautiful and challenging stream. The Cimarron is home to German Brown trout in abundance and a fair population of Rainbow trout. Fish range 7″ to 20″ in length, averaging 10 to 14 inches. Don't be fooled by this river's size, it's loaded with willing brown trout!
The dry fly fishing from mid-May through July can be fabulous. Several varieties of stoneflies, mayflies and caddisflies hatch, sometimes simultaneously, bringing eager brown trout to the surface, often all day long. August and September bring out the terrestrials and bank-feeding browns. By October browns are running and fall baetis are hatching, providing some excellent low-water fishing.\
Book a Cimarron Creek Fly Fishing Trip Today
Season:
March – November (Private Water)
Ask about our exclusive access on the Cimarron. It's so special that we call it the "Holy Water." It produces larger and more plentiful trout, consistently. Space is limited on the "Holy Water"