Our expert trout fly fishing guides can match your fishing skill and desires with fantastic locations to create the best opportunity for a successful trip.
From sprawling private ranches with four-star accommodations to mountain lakes and streams and wild river canyons, Van Beacham's Solitary Angler has the fishing opportunities and the guides to make your next fishing trip an unforgettable experience.
Van Beacham
Owner & Guide | Wyoming/New Mexico/ Colorado
A fourth generation native New Mexican, Van comes from over six generations of fly fishermen. Born in Santa Fe, New Mexico, he started fishing with his father and grandfather when he was four years old.
He has been fishing and/or guiding in northern New Mexico ever since. Van currently owns and operates The Solitary Angler in Taos.
Van has guided anglers of all levels from New Mexico to Wyoming since 1978 and he has a fine staff of guides anxious and willing to share their knowledge, skills and favorite locations with you.
Aaron Abeyta
Guide | New Mexico/ Colorado
Aaron is a Colorado Native who grew up, literally, a stones throw from the Conejos River in Southern Colorado, where his family still farms and ranches. Aaron is an avid angler and enjoys teaching other anglers of all skill levels. In addition to fly fishing, Aaron is a well known and award winning writer, teacher and educator. A day on the water with Aaron is a day spent learning new things and old things alike. Tight lines and good water.
Colin Brooks
Guide | Wyoming
Originated a few miles from the Ausable river near Mio Michigan, there is no time he can remember not fishing. Toured much of his life as a guitar player and singer/songwriter but always kept a fly rod in the van.
"I love to swing flies with a two hander as much as picking off mountain cutthroat in a 3 foot wide creek."
Conrad Cooper
Guide | New Mexico/ Colorado
Conrad Cooper has been fly fishing in Northern New Mexico and Southern Colorado for fifteen years. As a kid growing up, Conrad fished for bass, bluegills, and catfish in the lakes and ponds of Texas, but also experienced fishing for trout in the rocky mountains on many family trips to New Mexico and Colorado.
Fluent in Spanish, he has been on three solo fishing trips to Patagonia in recent years.
In addition to fishing and guiding, Conrad is also an active musician in Taos, playing upright bass and singing in several local bands. He is also a visual artist and art teacher, with degrees from top New York City schools.
Conrad loves meeting people almost as much as he loves meeting trout, and loves sharing his enthusiasm for fly fishing with others.
Tom Harper
Guide | New Mexico/ Colorado
If you ask Tom why he moved to Taos to become a fly fishing guide after practicing law in Scottsdale, Arizona for 40 years, one of th4 reasons he will give you is that he loves seeing the satisfaction and excitement on the face of a client he has helped catch a fish on a fly rod. He has hunted and fisted all of his life and began fly fishing 30 years ago. Since then the sport became a passion that pulled him relentlessly away from Phoenix to his discovery and move to Taos to become a fly fishing guide.
He has fished all over the Rocky Mountains as well as Argentina Mexico and the Florida Keys. He is a Fly Fisher International (formerly the "FFF") Master Certified Casting Instructor and has taught semester long fly fishing courses at Scottsdale Community College, as well as the Orvis Fly Fishing School in Phoenix, in addition to numerous private and group lessons, clinics and workshops at all skill levels. He is always excited about introducing people to the sport of fly fishing or helping them to improve their skills, enjoyment and satisfaction. He especially likes trips hiking to back country fishing locations.
His passion extends to renewing and preserving cold clean river and lake fisheries as the Immediate Past President of the Enchanted Circle Chapter of Trout Unlimited.
Jon-Carl Heglund
Guide | Wyoming
Born and raised in Durango, Colorado, Jon-Carl spent his high school and college days working in one of the local fly shops or guiding, from the high mountain streams to the Animas to the San Juan tailwater. He moved away from Durango after graduating from Fort Lewis College and after five years chasing smallmouth bass, musky and trout around Asheville, NC and two years fishing the bays and surf around San Diego, CA, Jon-Carl chose to call Red River, NM home. He currently guides the Summer/Fall season across Wyoming, from the Green River to the Bighorn, and on many smaller waters in between, as well as Winter/Spring on his home waters in Northern NM and Southern CO.
Bart Jernigan
Guide | Wyoming
Bart started fishing at a young age with his dad and grandpa. From panfish to trout to bass to tiger muskies, Bart spent much of his youth chasing the various fish species of Northern Utah. He found his true fishing passion when he was gifted a fly rod at the age of ten. From then on, Bart frequented local rivers and lakes in search of the next big fish.
In the fishing offseason, he is a coach and teacher at a local high school. While teaching and coaching brought Bart to Southwest Wyoming, the incredible local fishing and outdoor scenes are one of his favorite aspects of living in the cowboy state. Bart fishes the waters of southwest Wyoming year-round constantly honing his familiarity with the rivers and their beautiful fish.
Bart has a natural passion for teaching and coaching others to success on the river. The smiles that follow a perfectly-placed cast and the memories of clients' fights with big fish make the work of a fishing guide seem a dream come true for Bart.
The rivers of Southwest Wyoming are magical places, and Bart cannot wait to share them with you.
Dan Parson
Guide | Wyoming
As a resident Green River, Wyoming, Dan has been lucky to call Wyoming's Green, Hams Fork, Fontenelle and Smiths Fork rivers home for more than 21 years. He also fools around on Lake Flaming Gorge chasing carp and smallies.
A High School science teacher and coach in the winter months, Dan loves sharing his knowledge of Southwest Wyoming's fantastic fishing with anglers. When he isn't guiding he is exploring new waters and techniques, refining fly patterns (he ties everything he fishes), and works with local organizations to help with conservation efforts in the region. Dan always keeps an eye toward new innovations and trends that might help his fishermen learn and find success.
Dan grew up fishing the waters of Minnesota for the standard warm water species and played as often as he could on the North Shore of Lake Superior. He did his undergrad work in Iowa (where he chased fish on the Cedar River, hunted upland birds and waterfowl, and missed way to much class), did a 4-year stint teaching in Chicago and getting grad school done (fishing on park ponds and Lake Michigan saved his sanity). In the summers during that phase of life he spent 9 seasons guiding young fishermen in the Black Hills at a youth camp.
Dan's favorite thing in the world is chasing big trout on the Green and he is good at it. His boat has seen every yard of the river and there isn't a rock, hole, or riffle he has not fished many times.
I have stumbled into a good life. Better than I deserve, more than I hoped for, and one I do not take for granted. This is a special place for anglers, an area everyone should experience. The landscape is rugged, wild, and beautiful. So are the trout. I find sharing this area with people deeply rewarding.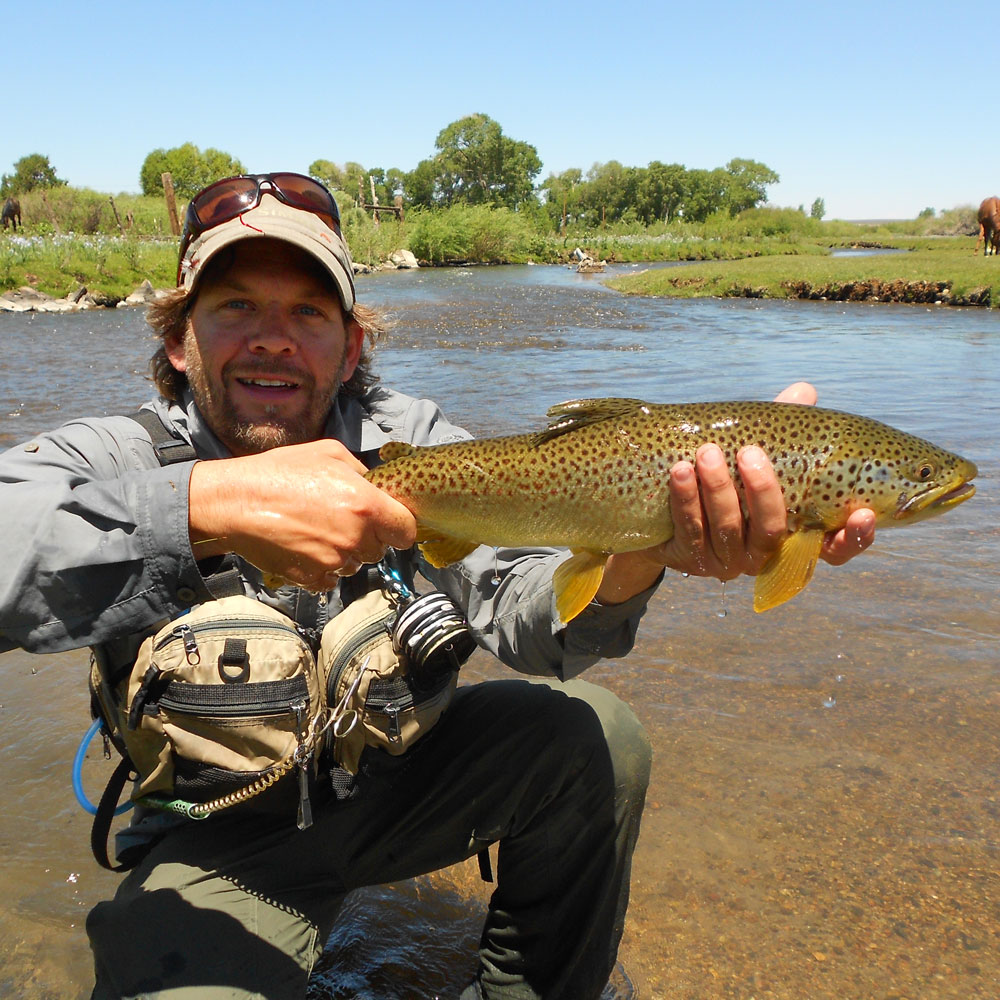 David Shaha
Guide | New Mexico/ Colorado
David Shaha(shayhay) been guiding for Solitary Angler since 2006. He grew up on the lakes in Oklahoma with a Dad that shared the same passion for fishing that David has. After catching a plethora of blue-gill, monster bass, and mythical size catfish, he worked at Philmont Scout Ranch for several years where he got hooked on trout.
Having a love for northern New Mexico and southern Colorado it was a easy choice to make Taos his home. If you haven't yet, come out and take a trip with him. His enthusiasm for fishing makes him fun to be around on the river anytime of the year.
Bob Widgren
Guide | New Mexico/ Colorado
A commercial custom fly rod builder since 1980 and co-owner of Los Pinos Fly Shop in Albuquerque with his wife Lee for 28 years, Bob has been deep in the fly fishing industry for almost 40 years and named the fly shop after one of his favorites streams, the Rio De Los Pinos in the northern NM.
Bob has been teaching fly fishing and rod building over the years in NM and is an avid tarpon fly fisher along with his love of Atlantic Salmon but his first love is still trout fishing.
"It's a tough gig, but someone has to do it".