(excerpted from the Flyfisher's Guide to™ New Mexico by Van Beacham)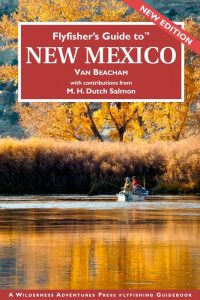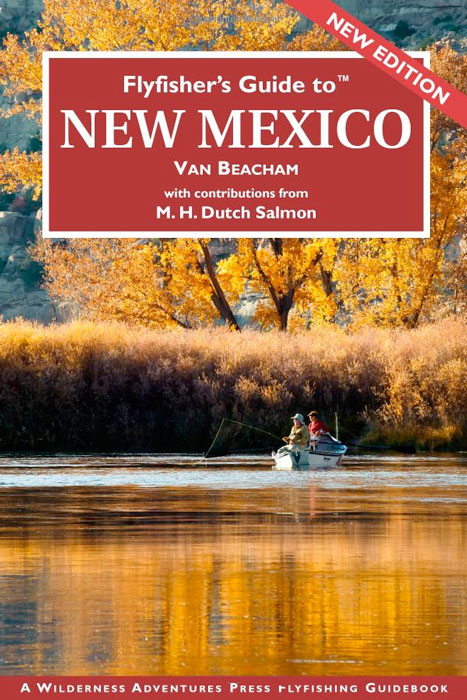 If we all had to guide on strictly wild freestone streams many guides would be out of business. Not only are they unpredictable compared to tailwaters, which makes guiding more difficult, but many beginning anglers don't have the time or the patience to fish streams that don't consistently produce. Let's face it, when you're learning and you only have a few days a year on the water, you want to go where you have the best chance of catching lots of fish. That means hiring a guide and going to one of the best rivers, usually a tailwater.
Even my business, The Solitary Angler, which specializes in "quality flyfishing without the crowds," has changed considerably since the days when I started guiding. When I go fishing I like to hike into the Rio Grande Gorge and fish for wild browns and cuttbows, yet my guides and I take the majority of our guided trips to one of three small tailwaters in the region because we know clients will usually catch more fish there.
On the Rio Grande, a wild freestone river, we know that the chances of catching few or no trout are often pretty good. The San Juan River, a famous New Mexico tailwater, has more guides operating on the first 4 miles of river below Navajo Dam than the rest of the state combined.
More and more, though, anglers are beginning to move away from the big tailwaters and the crowds in search of solitude and a more natural experience. This new angling population is concerned less with how many fish they catch or how big the fish are. If they can wade in a stream in a natural setting, without too many people, and catch a few wild trout on a fly they're happier than floating a famous river and catching big fish with a bunch of other people.
Small streams and creeks provide the best opportunities for such anglers. They're also better for beginning flyfishers to learn on because it isn't necessary to cast far, and there are endless chances to succeed since you're constantly moving and fishing new water. Each riffle, pool, pocket, and run is different, offering a new challenge in casting technique, presentation, drift, reading the water, and, hopefully, landing and releasing a trout.
Another thing that's easier to understand on small streams is trout behavior. On big rivers, it's hard to know what trout are doing unless they're actively feeding. But on creeks and small streams, the trout's world is in plain view, just like an aquarium. You can observe fish in their natural habitat—feeding, competing, resting, spooking, and even spawning. Also, you can usually sight fish, increasing your chances of catching the larger fish. Learning how to flyfish on small streams and creeks will also make you better at fishing larger waters.