Sorry!
The current edition is out of print.
From high mountain lakes and streams to wild river canyons; from large reservoirs to sprawling private ranches, New Mexico is one of the last places left where you can find quality flyfishing without the crowds – if you know where to look.
—Flyfisher's Guide to New Mexico by Van Beacham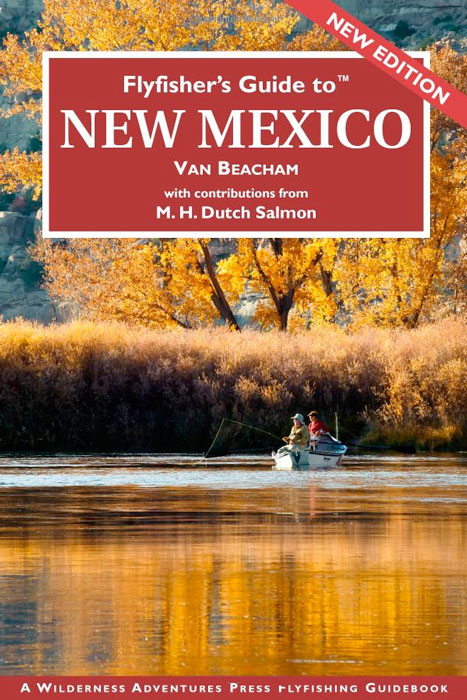 Your fly-fishing NM book is outstanding. It has been my bible as I have fished more and more waters of NM. Thanks for such a well written book.
Wow! I've read and used many self guide books in the past but I've never encountered one that covers its subject as well as this one.
Beacham's book might easily be called an encyclopedia of fly-fishing in New Mexico.
Van knows this area better than the back of his hand! Great tips and insight into the region. Best buy read for anyone headed to northern New Mexico.
I have several fly fishing books on New Mexico and Colorado, but if I could only have one, this would be it.
Flyfisher's Guide to New Mexico
In this completely revised second edition, just published, Beacham has updated New Mexico's fisheries statewide since the state recovered from a massive drought.
Several creeks and rivers are back to pre-drought excellence and you'll want to know where to go.
There are new chapters on Pike fishing in the Rio Grande Gorge and angling for monster Tiger muskies on Quemado and Bluewater Lakes.
Includes Hub Cities listings of flyshops, guides, lodging, restaurants and other essentials for more than two dozen base-camp towns and cities.
To order , let us know how you'd like Van to sign your book, then click Buy Now. Your book will ship soon. Thanks!
Personalized inscription? No problem!